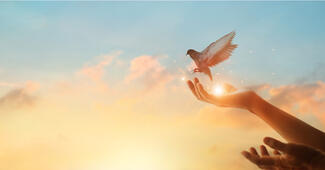 Plich o plich is a charity organization which was created to provide qualified psychological support for people in a crisis situation during the war in Ukraine.
Giving support to each other we can survive, we can live, we can plan our future. Especially, during the war, everyone realized how important  is to have a shoulder on which we can rely. Sometimes physically, sometimes verbally.
The psychological state of the nation is one of the important pillars that helps to survive difficult times and rebuild one's life, one's future, the future of the country.
The idea of ​​the Plich o plich  project is to provide crisis psychological assistance for those who need a "shoulder of another" to move on, but in times of need cannot turn to a psychologist due to their bad financial situation or other circumstances. Therefore, we hope that this fund will help find a solution for such people. Plich o plich  is a project that contributes to the development of the mental health of Ukrainians. Already now, each of us can be side by side, where united we build the future of wellbeing, the future of Ukrainians, the future of the nation, the future of our state, the future of Europe, the future of the world.
On the other hand - side-by-side project is a platform for supporting Ukrainian psychological specialists who also need financial support to be able to work in their field in these difficult times.